Clinical Matters Newsletter - March 2022
31 Mar 2022
Welcome to the March 2022 Edition of Clinical Matters!
In this issue...
Gastroenterologist Dr Rob Cunliffe Returning to Public and Private Work

Change to Rheumatology
Threshold

MoH Update to Infection Prevention
and Control Guidelines
Including PPE
Advice

Important COVID-19 Updates: Reduction to Planned Care, Anticoagulation in Pregnancy, Notifying Deaths Antivirals and Updated DHB Policy

GP Fails to Prevent Services to Patient with Reasonable Skill and Care

GP Representative for Paediatric Clinician Governance Group Sought (Paid Position)

Palliative Care Referrals in EBOP

Mindful Medicine Retreat: May 4-6 2022 (Coromandel)

 
Gastroenterologist Dr Rob Cunliffe Returning to Public and Private Work
We are pleased to announce that Dr Rob Cunliffe has now returned from extended medical leave, and will resume his work in both the public system and his private rooms at Suite 9, Promed House.
We wish him all the best with his recovery.


MoH Update to Infection and Prevention Control Guidelines Including PPE Advice
The Ministry of Health has released new infection prevention guidelines including PPE advice. You can read more here


GP Fails to Prevent Services to Patient with Reasonable Skill and Care: Lithium Toxicity
Deputy Health and Disability Commissioner, Dr Vanessa Caldwell today released a report finding a General Practitioner (GP) in breach of the Code of Health and Disability Services Consumers' Rights (the Code) by failing to provide services to a patient with reasonable skill and care.

A man in his seventies, with a long-standing diagnosis of bipolar affective disorder was following a treatment plan that included lithium. In December 2018 the man moved to a new medical centre, where he was tested three times by the GP, in line with three-monthly blood testing requirements for lithium. Each of these tests showed a gradual increase in lithium levels that was not acted on. Subsequently, the man was hospitalised with lithium toxicity.

Lithium levels require regular and frequent monitoring to ensure that they remain within a patient's therapeutic range. At the outset, the GP did not establish the therapeutic normal level for the man and did not respond to increasing lithium results appropriately.

In her report, Dr Caldwell found that repeated acceptance of increasing lithium levels by the GP without undertaking further investigations constituted a failure to provide services with reasonable skill and care.

The report acknowledges the challenge in assessing and managing complex conditions and that the GP became situationally blind with some symptoms that he observed in the man, and did not consider information obtained from successive lithium tests sufficiently in forming his diagnosis.

The full report for case 20HDC00482 is available on the HDC Website.


Resus Course Dates 2022

Mindful Medicine Retreat: May 4-6 2022 (Coromandel)
There is good evidence that healthcare professionals that practice mindful medicine have better patient outcomes and lower rates of burnout.
 
Kendall Crossen and Jeremy Rossaak are running their Mindfulness in Medicine retreat again on May 4-6 2022.
 
This three-day retreat in the beautiful Coromandel (away from the stresses of everyday life) is designed to equip participants with skills to improve the quality of care they provide patients while nourishing their own resilience and well-being.
 
Click here to view the flyer.
Click here to register.
Change to Rheumatology Threshold
Due to staffing levels, the threshold for the rheumatology service has moved to accepting priority 1 only.

We will publish more information as it is available.


Important COVID-19 Updates: Reduction in Planned Care, Anticoagulation in Pregnancy, Notifying Deaths, Antivirals and Updated DHB Policy
Non-Urgent Planned Care Reduction Due to Omicron Surge
In response to the Omicron surge in the community and the impact on workforce, BOP DHB has reduced the amount of non-urgent planned care across all specialties, both in Outpatients and for Treatment. Any workforce realised from these reductions in planned care activity are supporting clinical areas that are being significantly impacted.
 
Currently outpatients are encouraging telehealth appointments unless a patient is an urgent priority 1 case and can only be seen in person.
 
Our treatment/theatre lists are being prioritised with a focus on patients requiring life preserving surgery, ie: cancer treatment, urgent electives and acutes.
 
All GPs can be reassured that patients who are on a wait list remain on this list and will be seen as soon as possible according to the clinical prioritisation of the presenting problem.
 
Increased VTE risk with COVID-19 in Pregnancy: Anticoagulation may be Required 
COVID-19 infection during pregnancy leads to an increased risk of venous thromboembolism. Anticoagulation with enoxaparin (Clexane) may be required.
 
If you are caring for a patient who is pregnant and contracts COVID-19, please send a BPAC eReferral to the obstetric service at BOP DHB. They will rapidly triage the referral and make a decision on VTE risk and anticoagulation. If anticoagulation is required, they will arrange for an RMO to provide the prescription for the patient.
 
Please include the weight, height and BMI of the patient in the referral.
 
If you are prescribing anticoagulation yourself, please still send an eReferral to notify the obstetric service so that a register can be maintained of pregnant patients with COVID-19.
 
A Reminder to Notify the Medical Officer of Health About COVID-Related Deaths
Under Section 74 of the Health Act, it is our legal responsibility to notify the medical officer of health where we suspect a patient's death may be related to COVID-19. 
 
The medical officer of health will then collate the required data about the case for forwarding to the Ministry of Health.
 
Antiviral Medications for COVID-19 Infection: Update
Remdesivir is an intravenous antiviral agent that may be useful in some patients if given within 7 days of symptom onset. In community patients with symptomatic COVID-19, Remdesivir may prevent hospitalisation in those who are at risk of severe disease.
 
However, the ability to deliver this medication poses significant logistical and workforce considerations, and may not be reasonably practicable. If you feel your patient meets the criteria for administration of remdesivir, please contact the Infectious Disease SMO on-call at BOP DHB to discuss the next steps.
 
An oral alternative is likely to become available in the coming weeks.
See here for information on inclusion criteria: Updated changes to the access criteria for remdesivir for COVID-19 – Pharmac | New Zealand Government.
 
Update to DHB Policy on Notifiable Diseases
The DHB's policy on notifiable diseases has been updated as part of the regular review cycle. It will be available on the health professionals' section of the Toi Te Ora website, and via this link: https://www.bopdhb.health.nz/media/53yji4e1/notifiable-diseases4-1-7.pdf
GP Representative for Paediatric Clinical Governance Group Sought (Paid Position)
The paediatric clinical governance group needs a GP to provide primary care input to their group on Tuesday afternoons between 2-4pm every second month.
 
The work includes reviewing pathways and referral metrics and is remunerated at $150 per hour.

If you are interested in applying, please email baynav@bopdhb.govt.nz with your contact details.
Palliative Care Referrals in EBOP
Hospice EBOP continue to experience limited capacity due to COVID-19 and staffing issues. They will continue to care for their existing patients.
In order to support the hospice during this period, we are setting up a Palliative Response team based at BOPDHB. 

Further details regarding who will make up the team, and the service they will be providing, will be communicated as soon as more arrangements are in place.

In the meantime, we encourage Primary care providers to refer patients with palliative needs (both new patients, and those who have previously had hospice involvement but are not currently receiving active care from hospice).

All referrals should be sent to the Community Care Coordination (CCC) Team.
Please type 'Palliative' in the reference section.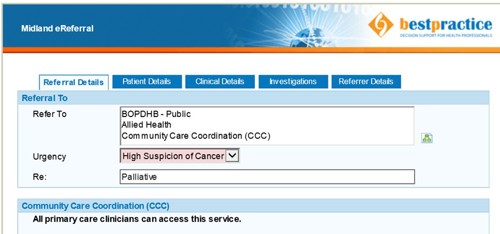 Dr Chris Tofield, Dr Dan Jackson, and Dr Paula Taylor
Click here to email the Bay Navigator team
Back to latest