Clinical Matters Newsletter - May 2022
31 May 2022
Welcome to the May 2022 Edition of Clinical Matters!
In this issue...
COVID-19 Advice for People with Inflammatory Arthritis and Related Autoimmune Diseases

Pharmacy Reports of 'Back Pocket' Prescriptions of Paxlovid and
Molnupiravir

New BPAC Referral for 3D (also now known as CHIRP)

Change in Threshold Plastics

Neurosurgical Referrals to Waikato for Existing Patients in EBOP/WBOP

Resus Course Dates - 2022

Māmā Maia Breastfeeding Support

Coroners (Doctors Fees) Regulations 2022

Keep on your Feet - Low Cost Strength and Balance Classes for Patients at Risk of Falling

National Health Advisory - Monkeypox Clinical Update from Ministry of Health

Making Referrals for Iron Infusions - Interim Process

Availability of Phone Support from Waikato Rheumatology

Planned Care Waiting Lists

Medical Deans' Webinar 16 June 2022 - Professionalism is Everyone's Business

 
COVID-19 Advice for People with Inflammatory Arthritis and Related Autoimmune Diseases
The NZ Rheumatology Association has produced an official statement on whether to continue immunosuppressants during symptomatic COVID-19 infection:
The New Zealand Ministry of Health provides advice for all New Zealanders about how to look after yourself while you have COVID-19. Oral DMARDS and biologics (but not prednisone) should be withheld until recovery of COVID-19 infection, if rheumatic disease activity and severity allows.
Anti-viral therapies such as Paxlovid are now funded for those people who were eligible for the third primary dose of the COVID-19 vaccine who have COVID-19 infection. Most people who are on DMARD therapy are eligible for this treatment, which should be initiated as early as possible and within five days of symptom onset.
There are important drug-drug interactions between Paxlovid and medications used in rheumatology care, including cyclosporin, tacrolimus, colchicine, upadacitinib, sildenafil, and prednisone.
For some people on high doses of immunosuppression, particularly rituximab, prolonged COVID-19 infection may occur. The care of these people should be discussed with a specialist infectious diseases team, as longer periods of isolation and additional testing may be needed in this situation. https://www.rheumatology.org.nz/home/resources-2/?utm_source=mailpoet&utm_medium=email&utm_campaign=urgent-notification-from-pharmac_18
New BPAC eReferral for 3D (also now known as CHIRP)
CHIRP (Child Health Integrated Response Pathway) is a triage service for children aged 14yrs and younger with developmental, attentional and/or behavioural concerns, that are of clinical significance, impact on the child's functioning across home and educational settings and may be due to an underlying neurodevelopmental condition including autism spectrum disorder, ADHD and/or intellectual disability.
BOPDHB is working to improve its referral process and pathway for children presenting with 'neurodevelopmental, behavioural and associated mental health concerns'. These are largely referrals that would have normally been made to 3D. This project is known as CHIRP. Over the course of the next 6 months BOPDHB will be refining their internal pathways for condition such as ADHD/ASD, which will hopefully lead to a timelier and more integrated response.  For the time being please continue to refer as you have always done, through '3D' - also now referred to as CHIRP. A CHIRP BPAC referral point has been created for ease of referral.
The Project CHIRP is looking to improve referral pathways and internal DHB response but has not yet initiated any changes to external referral pathways to Child Development Services, MICAMHs, or Paediatrics. The only change currently is the introduction of a BPAC option for 3D. No changes have been introduced to the Eastern Bay at this time, they do not have a 3D service.
Neurosurgical Referrals to Waikato for Existing Patients in EBOP/WBOP
A quick update that will allow your patients to be seen more quickly by the Neurosurgical team in Waikato.
Patients who are previously known to Waikato Neurosurgical department and have a recurrence of an existing problem, that was previously dealt with by Waikato, do not need to be referred to the General Surgical department in Tauranga/Whakatāne. They can be referred directly to Waikato from the BPAC system. You just need to change the drop down menu on the right hand side from BOP to Waikato and then search for Neurosurgery. This can be done for existing or new patients.
If it is an existing patient under the Neurosurgical team it may generate a decline letter automatically but the Neurosurgeon regarding the referral should free type that a new referral has been rejected but a follow up or ongoing care appointment will be scheduled. Of course for new acute or urgent patients you will need to speak to the Waikato Neurosurgeons on call and, if needed, follow it up with a referral via BPAC to Neurosurgery via either the emergency department or the referral coordination centre.
If an acute patient is not fit to travel by themselves contact your local General Surgical team who can support their transport via Tauranga/Whakatāne hospital. 
LDL Equation/ LH&FSH Reference Intervals Update
Māmā Maia Breastfeeding Support
There have been some new and exciting changes taking place at Māmā Maia, our funded community breastfeeding, antenatal and postnatal support service in the WBOP, with the new additions of Alex Deas (midwife and IBCLC-in-training), and Dr Whitney Davis (GP/IBCLC) to our team.
We welcome referrals from you (plus self-referrals) for any māmā facing feeding challenges or cry/fuss/sleep issues with their little ones, or māmā who may benefit from added antenatal support and breastfeeding education (gestational diabetes, challenging feeding journey with previous babies, etc.,) We can see babies up to 2 years of age. See below for an idea of the type of challenges we would love to see and help with:
Breast and/or nipple pain
Mastitis, blocked ducts, milk blebs
Low breastmilk production
Slow infant weight gain
Fussy babies and breast refusal
Windy, colicky babies, concerns about food intolerance/CMPI
Tongue tie assessments
Sleep concerns (often undiagnosed feeding issues)
Sending a referral is easy, use BPAC under breastfeeding support you (or māmā) can call us on 027 554 1120 or email mama@poutiri.org - we are also keen to hear from you if you would like some brochures or more proactive supports in the area of breastfeeding.
Meet our team
Alex Deas has worked across the midwifery scope for the last 18 years as an LMC and within both primary and secondary care and prior to this was a registered nurse. Many of you will recognise her from her latest work as Midwifery leader of Bethlehem Birthing Centre. As a breastfeeding specialist and IBCLC-in-training Alex is joining our team full time and available for home visit to support māmā and their whānau in feeding their babies and meeting their breastfeeding goals. Virtual options are also available.
Dr Whitney Davis is a GP IBCLC (lactation consultant) with a special interest in breastfeeding and perinatal medicine. She also has completed NDC Accreditation through the Possums Clinic which equips her to manage infant/toddler sleep problems and fussy babies as well as assessing and supporting maternal mental health. Whitney is passionate about helping mama feel more confident and connected with their little ones and treating postnatal challenges in a truly holistic way.
And of course we have Breastfeeding Specialist Aani Sherwin remaining on board continuing to support māmā in breastfeeding and caring for their pēpi, alongside breastfeeding peer counsellor Nicola Reweti and kaiawhina Chelah Wills.
Finally, ngā mihi nui thank you to Ūkaipo, Tiana Bennett and WBPHO, we appreciate working with you in supporting all māmā in the Western Bay of Plenty
Keep on your Feet - Low Cost Strength and Balance Classes for Patients at Risk of Falling
'Keep on your Feet' is a Bay of Plenty Falls Prevention initiative, aligning with the nationwide Live Stronger for Longer initiative. Coordinated through Sport Bay of Plenty, 'Keep on your Feet' classes are run across WBOP and EBOP and aim to reduce falls and fractures in order people, improving independence, mobility and quality of life.
Eligibility: The classes are aimed at any older adults (65+) who could benefit from improving their strength and balance. Note: patients under 65 years are welcome to be referred if they are at risk of falling or have a history of falls. Referred patients do NOT have to have a current ACC claim - all seniors are welcome.
How to refer: Patients can be referred through the BPAC eReferral system using the key words "Falls Prevention" or "Sport BOP" in the search option. Sport Bay of Plenty will then contact the patient to discuss what strength and balance class options are available in their area. Patients can also self-refer if they are confident in attending a local class.
Cost: Depending on the location and the instructor, classes cost an average $5 a session
For further information about Keep on your Feet, please contact Rachel Garden, on 021 191 6544 or rachelg@sportbop.co.nz
A full list of classes available be found here: https://www.livestronger.org.nz/home/find-class/find-a-class-near-you/
Spirometry in the EBOP
Due to Covid there have been a number of restrictions around patients getting spirometry done through the Asthma and Respiratory Management team BOP. The team have recently advised that GPs should keep referring patients as usual via the Best Practice eReferral system. They are planning a day in the near future to catch up on spirometry and will then be restarting their regular clinics.
Availability of Phone Support from Waikato Rheumatology
Tēnā koutou Primary Care Colleagues, 
The availability of phone support for Rheumatology queries by the Waikato Rheumatology department has been up and running for a month. We hope this is of use to you. Below is the criteria for who to call. If there are any barriers to accessing phone advice please let us know. Please be aware that the service available does not include Out Patient clinic assessment.
We are on track to welcome our new Rheumatology SMOs in early July and August respectively. Thank you for your patience,
Ngā mihi nui,
Dr Alex Lampen-Smith
Gastroenterologist & Hepatologist
BOP Clinical Lead National Bowel Screening Programme
Medical Leader Medical Services
Bay of Plenty District Health Board

For patients known to our service:
For non-urgent matters please email: rheumatologynurses@bopdhb.govt.nz  and one of our specialist nurses will follow up
For urgent clinical advice please call Waikato Hospital to ask for On Call Rheumatologists
For clinical advice for patients not known to our service (or yet to be seen by our service)
Please call Waikato hospital and ask for the on call Rheumatologist.
The Waikato Rheumatologists are available out of hours.
Medical Deans' Webinar 16 June 2022 - Professionalism is Everyone's Business
Dear colleague,
Join us for our upcoming webinar on Professionalism: Professionalism is Everyone's Business following on from the findings and recommendations of Medical Deans' report Professionalism and the professional identity of our future doctors.
Date: Thursday 16th June 2022
Time: 6pm to 7:30pm AEST
Click here to register and to receive the webinar link
Doctors are rightly expected to demonstrate professionalism throughout their careers. However, this can be challenging when what is being expected and taught conflicts with what students and junior doctors see and experience from other, often senior, doctors and health professionals in the clinical environment.
How can students and junior doctors be better prepared and supported to be the professionals we need them to be? How can busy hospitals and general practices ensure high levels of professionalism from all those working in their services? How do we support overworked and overwhelmed clinicians, and break the cycle of poor role-modelling that contributes to toxic culture?
We all know the fallout these systemic and too wide-spread instances have on our students and junior doctors, and on the safety and quality of patient care. This webinar will explore the issues involved and how medical schools, health services and clinician educators can better align and connect their work to teach, foster, model and support high levels of professionalism from our future doctors.
Click here for details of the panelists who will be speaking at the webinar.
Please forward this email to colleagues with an interest in this topic who may wish to attend.
We look forward to seeing you on 16th.
Kind regards,
Helen Craig
Chief Executive Officer  | Medical Deans Australia and New Zealand
Pharmacy Reports of 'Back Pocket' Prescriptions of Paxlovid and Molnupiravir
Some pharmacies have reported being presented 'back pocket' prescriptions for Paxlovid or Molnupiravir. These agents are only intended to be prescribed for active COVID-19 infections.
Please can we request prescribers annotate prescriptions for these antiviral agents with what day of infection patient is on, the patient's renal function, and other medications the patient is currently taking.
 
It is also useful for pharmacists if dosage adjustments or cautions are outlined when prescribing e.g. stop atorvastatin whilst on Paxlovid and for three further days. 
 
Contact details of prescriber are essential as often the pharmacist requires a double-check of dosing, interactions or cautions.
 
A reminder of the pharmacies which dispense COVID-19 antivirals:
John's Photo Pharmacy, Tauranga
Chemist Warehouse Bethlehem
Life Pharmacy Bayfair
Unichem Adamsons Pharmacy, Whakatāne
Opotiki Pharmacy
Kawerau Pharmacy
Change in Threshold - Plastics
The threshold for plastics and reconstructive surgery has been lowered to include reconstruction after tissue loss with no functional impairment
Please see below change to threshold for Plastics:
Waiting Priority 1: Accept
Waiting Priority 2: Accept
Waiting Priority 3: Accept
Waiting Priority 4: Decline
Resus Course Dates 2022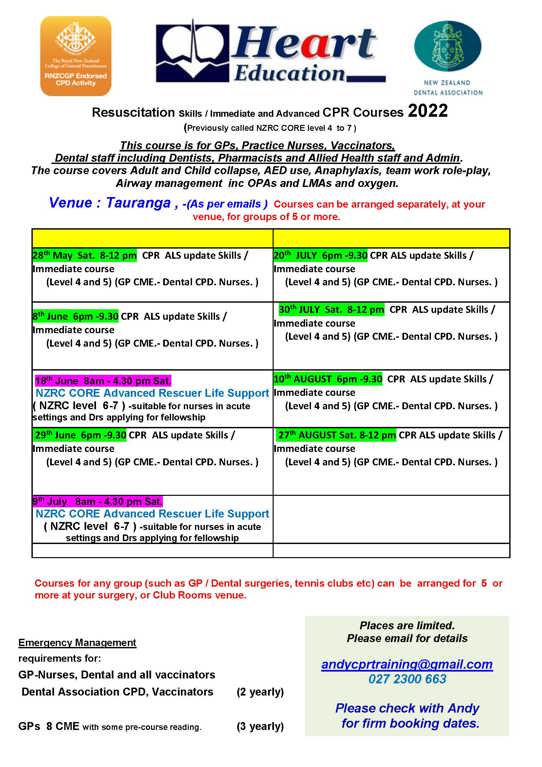 Coroners (Doctors Fees) Regulation 2022
Regulations have been made to enable payments to doctors for the reports they provide coroners under section 40 of the Coroners Act 2006 
The Coroners (Doctors Fess) Regulations 2022 (the regulations) were recently agreed by Cabinet and will come into force on 1 July 2022.
Click here to read the full report
Monkeypox Clinical Update from Ministry of Health - 25 May 2022
This update is based on the current information and the situation may quickly change within New Zealand. Further information and advice will be provided when known.
Current situation
There are no suspected or confirmed cases of monkeypox in New Zealand
Monkeypox is a zoonotic virus (transmission occurring animal-to-human) which is endemic in parts of Central and West Africa. Outbreaks outside of the African continent occasionally occur but are often small due to low transmissibility of the virus
On 17th May 2022 a confirmed case of monkeypox was notified by the United Kingdom. This is now a global outbreak with 131 cases confirmed in 19 countries outside of where monkeypox is endemic. Most infections are among men who have sex with men (MSM)
Two monkeypox cases have been confirmed cases in Australia
Click here to read the full report
Making Referrals for Iron Infusions - Interim Process
The referral pathway for infusions performed at the DHB is being updated. This is the interim process that you can use until that work is complete.
 
Referrals for iron infusions should be put through to GENERAL MEDICINE – stating IRON INFUSION in the reason for referral.  Do not address to 'Day Stay or Medical Day Stay' as there are no dedicated Day Stay staff. 
 
Below is a summary of the information which is required by the non-clinical admin team to enter into the booking system to generate the event. If referrers could please answer all the questions, then it greatly simplifies the process. This is the same requirement for referrals originated from the hospital – they are declined until the information is provided. 
 
Drug Chart: The grading team will sort out the charting of the medication – there is no need for the GP to prescribe or chart anything.
 
Difficult Access: If the patient requires IV access by US guided means due to difficult cannulation – this simply needs to be mentioned and the grading team will sort. 
 
It is helpful to detail why the infusion cannot occur in the GP setting – i.e. not funded on current pathway, or difficult access. 
Patient's details

Name and NHI 
Presenting problem/condition: what condition is the treatment for
Suspicion of Cancer: low or no suspicion, High, Confirmed
(please mention tumour stream)

Infusion Information

 Indication
Drug name
Dosage
Route
Pre-Med/Fluids required?
Frequency: one-off or recurring (mention frequency for subsequent treatment after the initial doses)
Timeframe/urgency:  When to start treatment. If treatment is expected on or after a specific date, please mention it
Pre-Med/Fluids required?  (? Antihistamines)
Is US guided IV line required ? Yes/No (this will be organised by grading/infusion team)
Reason Medication cannot be given in GP setting: 
Planned Care Waiting Lists
Please see below a letter that is being sent to patients and GPs of patients on waitlists that have waited more than 4 months:
As we begin to come out of the first Omicron (COVID-19) surge in our communities, our teams are working hard to ensure that patients with the highest clinical significance are seen first.
As at today we are unable to provide a time frame for your patient's appointment.
Please be assured that your patient is still on the waiting list and we are committed to providing their outpatient/treatment appointment as soon as we can.
It is important that if there are any changes to your patient's condition you notify us with a further referral including any additional information.
Back to latest