Urology
Information Resources

Adult Urology
Macroscopic Haematuria
Continuous haematuria with clots or clot retention:

Phone Urology registrar for acute assessment.



Haematuria without clots or clot retention:
Do a MSU to exclude infection. Haematuria associated with infection does not require referral.

2 out 3 MSU specimens must show red cells greater than 20 x 106/L seven days apart

Order a Renal Tract USS.
Check creatinine.
Thereafter refer to urology or renal medicine as appropriate.
Is the incontinence stress or urge?
If both, then which is more disabling?
Investigations:
MSU
Bladder diary (frequency volume chart).
Stress Incontinence:
Trial of pelvic floor exercises (3 months minimum). Consider referral to the Continence Service.
Refer if significant incontinence is affecting quality of life.
Urge Incontinence:
MSU vital to exclude reversible causes e.g. UTI, haematuria.
Medication:Refer if symptoms refractory to Vesicare:
 

Oxybutynin 5mg tds - 3 month trial.
If unsuccessful, apply for Vesicare (solifenacin) on Special Authority - 3 month trial. Solifenacin is available on special authority if oxybutynin has been trialled and is ineffective or not tolerated. Apply for the authority on line or click here for application form.
Urinary Tract Infection in Men:
Refer only after the 2nd urinary infection if UTI uncomplicated i.e. no fever or flank pain.
Investigations:



DRE
MSU
Serum Creatinine
Order Renal Tract USS


Urinary Tract Infection in Women:
Behavioural modification important:
Fluid intake
Treat constipation
Void after intercourse
Cranberry juice
Probiotic yoghurts
Ovestin cream if perimenopausal may be helpful


While the evidence associated with these measures are not strong, they can be helpful.



If UTIs persist order a Renal Tract USS:
The criteria for a funded Renal USS scan are:
> 3 documented UTI's in 6 months, or 6 in a year despite adequate courses of culture specific antibiotics. This pattern implies bacterial persistence rather than recurrence. (Ensure that patient has not previously been investigated with imaging)
Recurrent pyelonephritis with no previous imaging.


If USS abnormal, refer.


If USS normal:
Take a single dose of antibiotic after intercourse, if this is the precipitating factor.
Self-start treatment – women have relevant antibiotics with them to start as soon as symptoms of a UTI develop.
If the UTIs are multiple, or frequent, or severe consider a short duration (6 weeks ideally, but up to 3 months) of antibiotic prophylaxis. Use a low dose, culture appropriate agent.


Note: prophylaxis should be a last option, when all other measures have failed. Avoid if at all possible. The obvious risks of prophylaxis are selection of resistant bacteria, as well as significant and irreversible side effects related to long term use of particular antibiotics (e.g. pulmonary fibrosis with Nitrofurantoin).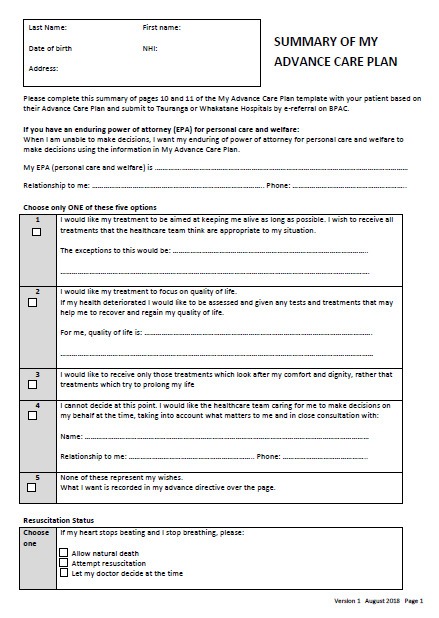 This plan is for you, to use to write down what you would like your friends, family/whanau, and health professionals caring for you to know.
You can add to this as often as you like, and change your decisions at any time. This is YOUR plan.
You can write down your wishes and preferences. You can share this with anyone who is involved in looking after you.
You do not have to complete this document all at once.
If you would like help completing this document please speak to someone you trust eg. your GP, health professional, family/friend.

Registering the completion of your Future Care Plan (FCP) is very important.
To do this simply take it along to your GP and ask them to complete the following steps on your behalf:
Instructions for GPs:
Scan a copy of this FCP to your Patient Management System (PMS).
From your PMS create an e-referral to go to Health Records Tauranga (if in the Western Bay) or Health Records Whakatane (if in the Eastern Bay).
Attach the FCP document and then send the e-referral.
When received by the District Health Board your FCP will be uploaded into your health record. If you come into hospital, staff will be alerted to the presence of your FCP and be able to provide care accordingly.
Should your wishes change, you can update your FCP at any time. Simply submit a new care plan and it will replace the old one.
Paediatric Urology Guidelines
Majority resolve -usually by the age of 24 months.
Reassure.
If not resolved by age 2- please refer.
Triad of:
Hooded foreskin
Chrodee
Proximal urethral meatus
Usually repaired at 1 year of age.
Refer- no investigations necessary.